"Because you have seen me, you have believed. Blessed are those who have not seen and have believed." (John 20:29)
I had dreamt for at least ten years about going to the Holy Land…the places where Jesus was born, where He walked and talked, healed, prayed and performed miracles. It was on my 'bucket list.' We were supposed to go in 2021 but couldn't due to Covid. Finally, I was here, after a long flight, sitting at the first Mass in the first church (Church of the Annunciation, where the Angel Gabriel announced to a teenage girl she would bear the Messiah, the Savior of the world) and I asked myself, why did I come on this pilgrimage?
The Search…
Sure, there would be so many exciting highlights…we were also going to Egypt, where Mary and Joseph took the baby Jesus, where our faith in God began, where Abraham, Joseph and Elijah lived and Moses received the Ten Commandments. What lie ahead included seeing the Pyramids at Giza, a Nile River cruise, the King Tut museum, a camel ride, sunrise at Mount Sinai. Also, boating on the Sea of Galilee, floating on the Dead Sea, dining on new Mediterranean fare and much more.
A Pilgrimage, NOT a Vacation…
But let me be clear, as our host Fr. Casey Jones from Naples reminded us…this was not a vacation but a pilgrimage. I had some soul searching to do. So back to my question, why did I come? What was I hoping to find? As I sat there at that Mass and beautiful services with soul-stirring music provided by our other hosts, Jon Niven along with Alexis and Fr. Ryan Rooney, I prayed that I would become closer to Jesus. To truly feel a close personal relationship with Him as I'd heard many people share they had…the writers of the Christian books I've edited, the attendees of Christian writers conferences where I've taught, even a few friends I know. I wanted that. I longed for that.

The Discovery…
Did I find it? Yes, but in a myriad of anticipated or expected…and some very unanticipated, unexpected ways. I felt it gazing at the turquoise water of the Sea of Galilee sitting on a Jesus boat, listening to the guitar and voices. I felt it reading in an outdoor Mass on the Mount of Beatitudes…speaking where Jesus spoke. I felt it sitting in Mass at Shepherds Field where the Angel appeared to shepherds to announce Jesus was born as the most beautiful rendition of O Holy Night I've ever heard filled the small cave. I felt it as I helped carry the cross along the Via de la Rosa, a stone road where Jesus carried a much heavier cross alone to His death. And I felt it as we walked through the Church of the Holy Sepulchre and I stood in the stone holding cell where He awaited that death, touched the spot where He was crucified and the stone slab where His body was prepared, saw the stone crypt where He was buried and rose, stood where He last stood looking up to the top of the stone dome in the Chapel of the Ascension in Jerusalem where He ascended into Heaven and will come again.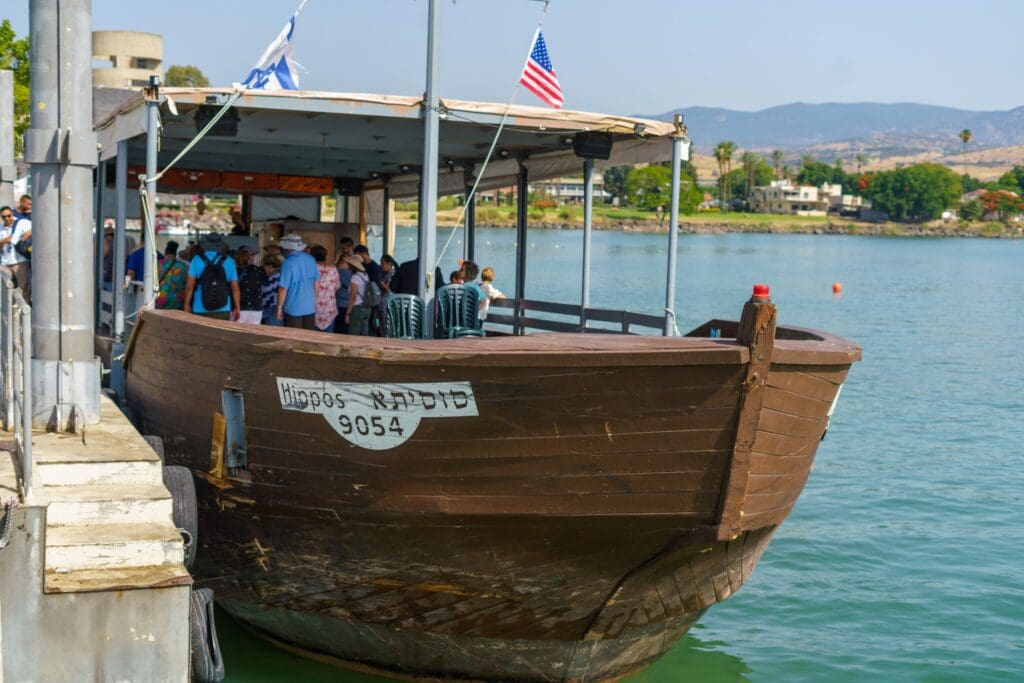 Feeling Jesus…
I felt it as I renewed my wedding vows with my husband. As I rode a camel for two hours up Mount Sinai in the middle of the night under a sky full of stars. When we pilgrims helped each other along the way. When Fr. Ryan told me that humility, which I have also sought on this trip, is "to see yourself as God sees you." When we visited a care center where children and adults with severe disabilities are cared for. When a new pilgrim friend gave me powdered milk from the Milk Grotto where Mary nursed the baby Jesus…which miraculously turned all white when a drop of her milk spilled to the floor…to give to one of our daughters who is struggling with possible infertility.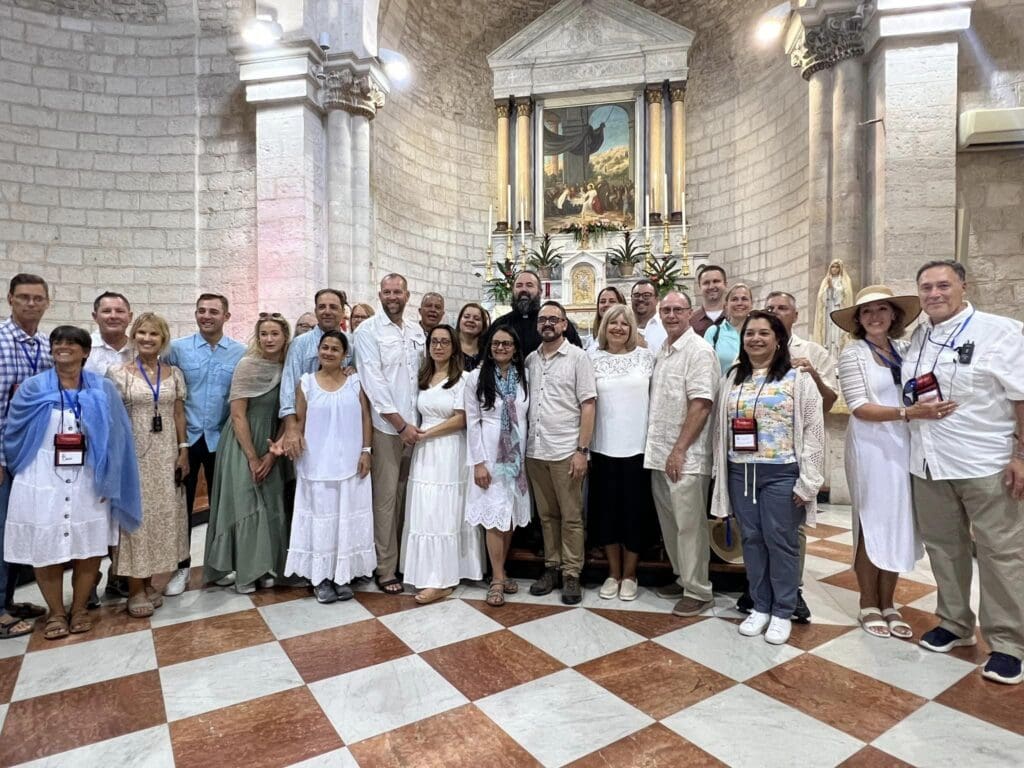 Hearing Jesus…
I heard Jesus through Fr. Casey, who said at our Mass at St. Catherine's Monastery at the foot of Mt. Sinai before we went up the mountain, the Bible can be summed up in two words: 'We win.' He said, like us, Moses made excuses…but God overcomes them all. And when Moses and Elijah came down on Mount Tabor (which we also walked) and Jesus was transfigured, Peter James and John laid down in fear, but Jesus said 'arise' and they went down the mountain to preach the Good News. God promised a new Moses, a new temple, a new Promised Land, a new covenant and these are all fulfilled through Jesus. And WE right here and now are fulfilling God's plan.  "We know that everything we are doing here was foreshadowed, foretold, 3000 years ago…" WOW. I realized in that moment that God predestined for me to be here on this pilgrimage to change ME and use ME. Fr. Casey went on to say, "just like Peter, James and John, we want to stay up on the mountain. We've had such a spiritual transformation that we don't want to go back down…to our work emails, our children having their problems, signing checks and paying bills…we'd rather stay here on this pilgrimage." But, he added, "our life is a pilgrimage, a journey and that journey is made easier by Jesus Christ…and in this Eucharist. Jesus tells US to arise, rise from sin and shame, grief and addiction, and move forward to the Promised Land." And it's here and now!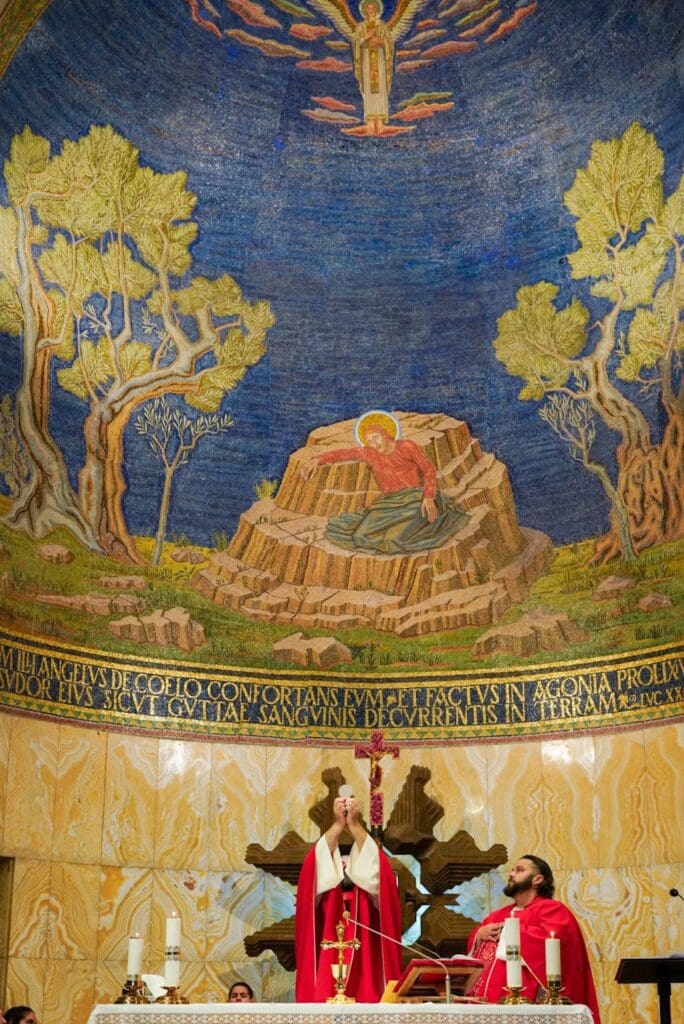 Experiencing Jesus…
Finally, I experienced Jesus at the last Mass we pilgrims celebrated in ancient Cairo. The readings were about Abraham receiving a covenant from God that His people would be as numerous as the grains of dust or stars in the sky. I heard Jesus say, this is my covenant with you…if you eat my body and drink my blood (through the Eucharist) you and your children will be fruitful and multiply and everything will be alright, as long as you believe.
I felt a deep-down peace, joy and gratitude. I knew why I'd come…and I still ponder it in my heart just like Mary did when Jesus was born. And I can recall and experience these feelings, this relationship, any time, right here and now.
Dear Jesus, please remain with us each day as we experience all the ups and downs of life, carry Your cross, help others, and do the Father's will. Help us see ourselves through Your eyes. Help us to see You every day, in every moment, in every person we encounter. Thank You for showing us the way.